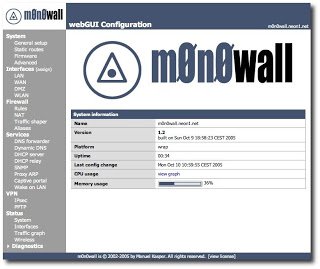 m0n0wall (con zeri al posto delle vocali o) e' un sistema operativo che costruisce un firewall software basato su FreeBSD, ed ha lo scopo di fornire un potente, sicuro e completamente configurabile firewall utilizzando l'hardware di un comune PC o di altri dispositivi adatti all'embedded di questo sistema (ad esempio router, modem, Singleboard computers (SBC), computers On-A-Chip, etc..). Il suo core e' basato sui potenti sistemi di filtraggio e shaping propri di FreeBSD. Il sistema e' ricavato da una configurazione minimale di FreeBSD con l'aggiunta di un web server, PHP e pochissime altre utilities. Sottoforma di LiveCD, m0n0wall puo' essere lanciato da unita' removibili su un computer diskless. È anche adatto a PC headless minimali. Viene configurato e gestito tramite interfaccia web attraverso degli script PHP. Le sue principali caratteristiche sono il Packet Filtering, Nat, PPPoE, PPTP, DHCP, Tunnels, SNMP, RADIUS, Traffic Shaping, DNS forwarding e 802.1Q . Il sistema e' capace di filtrare tra l'interfaccia Lan e Wan qualcosa come 17 Mbps di traffico TCP su un vecchio Net4501 mentre eccede i 100 Mbps su moderni PC standard.
Ecco le novità della nuova versione 1.3.1 tratte dal sito del produttore:
· WARNING: this version (any platform) no longer fits on 8 MB CF cards! (>= 16 MB required)
· When upgrading from generic-pc 1.2x, you must install 1.3b7 first before you install this image. Other platforms are not affected.
· fixed DHCP server "deny unknown clients" option with known clients without a statically assigned IP address
· fixed a security issue in the DHCP client (CVE-2009-0692)
Per maggiori informazioni consiglio di consultare il sito del produttore accessibile direttamente dal link posto qui sotto.