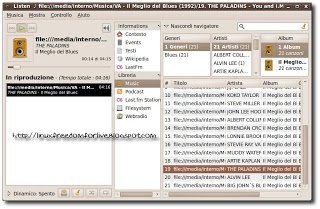 Listen Music Player è un player audio multimediale scritto in Python. Grazie ad esso, si può facilmente organizzare le vostre collezioni di musica. Supporta molte caratteristiche come la gestione dei podcast, Shoutcast, lastfm e molto altro ancora.
Ecco le novità della nuove versione 0.6.5 tratte dal sito del produttore:
* Playlists order are keeped
* Fixed some encoding problem when downloading podcast
* Write common API to display html
* New preference window layout
* Ensure dialog window are open on the top of main window when it was in fullscreen
* Big code cleanup with pylint
* Update gajim api
* Suppression current playing song from gajim or pidgin status when exiting
* Fixed flickering in top left screen, when pressing cover button
* Decrease listen load time a lot
* Resolve stream end and stop to this track conflic problem
* Add viewport for webkit
Ecco come installare/aggiornare Listen 0.6.5 su Ubuntu 9.04 Jaunty e 9.10 Karmic.
Avviamo il terminale e e aggiungiamo i Repository nella nostra Distribuzione scrivendo:
Per Ubuntu 9.10 Karmic
sudo add-apt-repository ppa:listen-devel/ppa && sudo apt-get update
Per Ubuntu 9.04 Jaunty
sudo apt-key adv –recv-keys –keyserver keyserver.ubuntu.com 0xc0cd3b73bda4c5b50e646391ef50d13caa832887 && sudo echo "deb http://ppa.launchpad.net/listen-devel/ppa/ubuntu jaunty main" | sudo tee -a /etc/apt/sources.list && sudo apt-get update

ora se abbiamo Listen installata in una versione precedente basterà aggiornare la nostra Distribuzione altrimenti installiamo Listen con un semplice
sudo apt-get install listen
e confermiamo. Ora avremo la nostra Listen installata/aggiornata nella nostra Distribuzione
L'applicazione è disponibile anche sui Repository LinuX Freedom for Live andando in QUESTA pagina
In caso di future nuove versioni ci basterà aggiornare la nostra Distribuzione.
Per maggiori informazioni consiglio di consultare il sito del produttore accessibile direttamente dal link posto qui sotto.