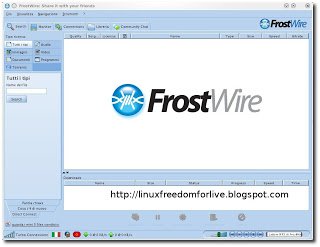 FrostWire è un programma open-source di condivisione file P2P. Usa la rete Gnutella, è completo e semplice da utilizzare ed è basato sul progetto LimeWire. È stata anche implementata la possibilità di scaricare file tramite il protocollo Bittorrent. Frostwire è scritto in Java e per questo funziona su ogni sistema che abbia una Java virtual machine installata.
Ecco le novità della nuova versione 4.20.3 tratte dal sito del produttore:
· Fixes a bug where files couldn't be dragged out of the Library.
· Fixes a bug where opening a magnet link would freeze the UI while it was being fetched in the DHT.
· Fixes a bug where magnet links that were dropped on FrostWire wouldn't start downloading.
Per installarlo su K|X|Ubuntu basta scaricare il file .deb dal link posto sotto cliccarci sopra e confermare oppure aprire il terminale  e scrivere:
sudo dpkg -i *.deb
e poi
sudo apt-get install -f

confermiamo e alla fine avremo il nostro FrostWire installato.
Per maggiori informazioni consiglio di consultare il sito del produttore accessibile direttamente dal link posto qui sotto.