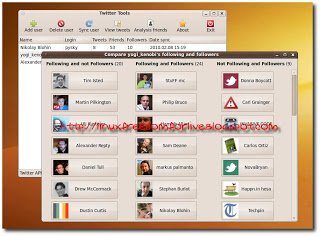 Histwi è una semplice applicazione per la gestione degli account Twitter.
L'applicazione permette di:
Scaricare e salvare tutti i nostri Tweets
Visualizzare e esportare tutti i tweets salvati in un file html o txt.
Confrontare i nostri Following e Followers.
Seguire / Smettere si Seguire gli amici che vogliamo
Tracking nuovi followers e unfollowers
Advanced Twitter Search.
Gestione di più account Twitter
Ecco le novità della nuova versione 0.5.3 tratte dal sito del produttore:
Added new notify about new followers/unfollowers.
New look for windows with information about the user.
Improved search results window.
Improved stability when loading data.
Added ability to follow/unfollow users from Compare window.
Per installarlo su K|X|Ubuntu basta scaricare il file .deb dal link posto sotto cliccarci sopra e confermare oppure aprire il terminale  e scrivere:
sudo dpkg -i *.deb
e poi

sudo apt-get install -f

confermiamo e alla fine avremo il nostro Histwi installato.
Per maggiori informazioni consiglio di consultare il sito del produttore accessibile direttamente dal link posto qui sotto.
home
download histwi_0.5.3-1_i386.deb
download histwi_0.5.3-1_i386.tar.gz