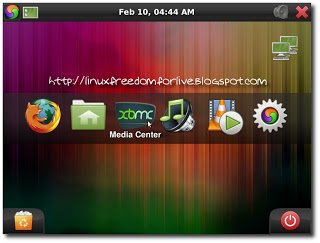 Element è una distribuzione basata su Ubuntu per l'Home theater o Media Center Personal Computer progettato per essere collegato ad un HDTV o su un Proiettore per visualizzare i nostri video, immagini, musica, internet ecc. Element  per essere utilizzato anche come un PC, ciò che rende unica questa distribuzione è la sua speciale interfaccia utente, basato su xfce4, è davvero semplice da utilizzare e un aspetto completamente innovativo. Anche se la sua funzione principale è quella per la gestione di musica, video, foto, internet e media, la distribuzione comprende anche i principali applicazioni, come Firefox, Brasero, Transmission, Vlc ecc, per l'uso come un normale PC. Viene fornito con XBMC Media Center comunque è possibile aggiungere anche un sistema diverso come Boxee, Moovida o Hulu.  Il progetto vanta anche la capacità di usare Element come una console di gioco con una centinaia di giochi disponibili.
Ecco le novità della nuova versione 1.1.0 tratte dal sito del produttore:
This version is based on and thus binary compatible with Ubuntu (Xubuntu) 9.10. Featured software in this release includes Linux kernel 2.6.31, XFCE 4.6.1, XBMC 9.11, Firefox Browser 3.5.8, Decibel Audio Player 1.01, Pidgin IM 2.6.5 Transmission 1.75, AllmyApps.com 9.10 integration, custom GTK themes, and version 1.0 of the Element App Finder (based on Xfce-App-Finder).
Version #s of most important packages.
linux 2.6.31, glibc 2.10.1, gcc 4.4.1, python 2.6.4, pidgin 2.6.5, gtk+ 2.18.3,  xfce 4.6.1, xbmc 9.11, firefox 3.5.8, transmission 1.83, decibel-audio-player 1.01, vlc 1.0.2, brasero 2.28.2, element-app-finder 1.0
Se avviamo in modalità livecd mettere element come username e nessuna password e premere Invio
Per maggiori informazioni consiglio di consultare il sito del produttore accessibile direttamente dal link posto qui sotto.