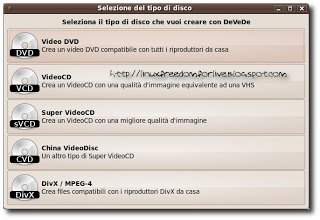 DeVeDe è un programma Open Source disponibile per il sistema operativo GNU/Linux per la creazione di DVD e CD Video (VCD, SVCD o CVD). I formati video disponibili sono tutti quelli supportati da MPlayer e grazie DeVeDe possiamo creare in maniera semplice i nostri DVD/CD pronti per essere riprodotti da un qualsiasi home player.
DeVeDe è interamente scritto in Python con un'interfaccia grafica che poggia sulle librerie GTK (PyGTK and PyGlade). Il programma consente di importare qualsiasi file video, dividerlo automaticamente in scene dalla durata scelta dall'utente, convertire il formato, e infine creare l'immagine ISO da Masterizzare su DVD.
Ecco le novità della nuova versione 3.16.6 tratte dal sito del produttore:
# Buttons in main window now has a border, like all other buttons
# Desktop launcher now shows a much more HIG-compliant description
# Pressing RETURN key in Title properties and Create disc dialogs has the same effect than the Accept button

Per installarlo su Ubuntu basta scaricare il file .deb dal link posto sotto cliccarci sopra e confermare oppure aprire il terminale recarsi dentro la cartella e scrivere:
sudo dpkg -i *.deb
e poi
sudo apt-get install -f
confermiamo e alla fine avremo il nostro DeVeDe installato.
Per maggiori informazioni consiglio di consultare il sito del produttore accessibile direttamente dal link posto qui sotto.
home
download devede_3.16.6-0~rastersoft1_all.deb
download devede-3.16.6.tar.bz2